District Manager's Corner
by Pat Frost
Meeting the Districtís conservation mission requires building and maintaining many links between individuals and organizations that share in our common goals of protecting, managing, conserving and restoring natural resources in Trinity County. The Conservation Almanac is our way of sharing some of these partnerships with all of you.

In this issue you can read the second part of an article by Doug Schleusner, the Executive Director of the Trinity River Restoration Program Ė an excellent example of many different agencies working towards the common goal of restoring the Trinity River and its fisheries. The District links together many individual property owners in the Highway 299 Shaded Fuel Break project (front page) to help reduce the risks of wildfire on their property and by doing so reducing the wildfire risks for all of us in Trinity County.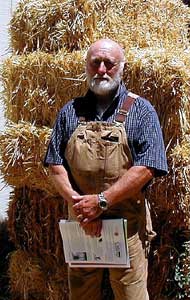 Elmer Barnes

Sometimes the District simply provides an open door or an idea that a landowner can use to improve conservation practices on his or her property. Thatís the case with Elmer Barnes, the Ranch Manager of Hellíer Highwater Ranch in Zenia. Elmer attended a Ranch Water Quality workshop that the District helped to organize in 1999. That introduced Elmer to some different conservation practices and to Environmental Quality Incentive Program (EQIP) administered by NRCS. Recently Elmer stopped by to tell me how pleased he is with the design that the Jim Spear and his staff prepared to correct gully erosion that was destroying valuable pasture, and of his commitment to start the next phase of his project.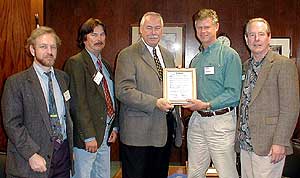 RCD Resolution given to Dick Dickerson
to thank him for his support

Building and maintaining ties to our elected officials is another critical part of the conservation partnership equation. Assemblyman Dick Dickerson has shared many of the Districtís concerns over conservation issues and been one of our strongest supporters in Sacramento, including the Watershed Coordinator Grant Program. This grant program provided the District with funds to coordinate landowner and ongoing restoration efforts throughout the county and to write grant proposals that have brought $1,885,611 into Trinity County since March 2001. For a look at what the watershed coordinator grant program accomplished around the state go to www.consrv.ca.gov.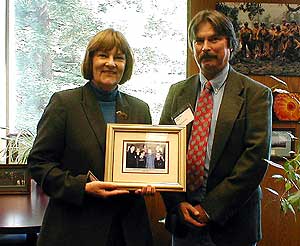 President of California Envirothon
Greg Lowden presents picture to
Virginia Strom-Martin

Assemblywoman Virginia Strom-Martin, a former schoolteacher from Sonoma County, led many efforts that linked natural resources management and education together. This year those interests led her to participate in the California Envirothon as one of the Final Judges.

You can be one of our conservation partners, too. If you have a project idea, need technical assistance or simply need a speaker, just give us a call.