Trinity County Salmon Festival
& 5K Fun Run/Walk
The fourth annual Trinity County Salmon Festival & 5K Fun Run/Walk will be held this year on October 5th at Lee Fong Park to celebrate the fall harvest and Chinook spawning run. There will be live music, food (including barbequed salmon), arts & crafts, resource and non-profit booths, raffles, farmerís market booths, vendor booths, and more. Activities for kids include hayrides, a giant salmon storytelling tent where kids dress up as the characters, fish printing, arts & crafts, and lots more. Last year, nearly 900 people attended this fun-filled and free event.
The day will start off with the 5K Fun Run/Walk at 10am. The easy loop course starts and ends at the Lee Fong Park. Refreshments will be provided for all runners/walkers and top finishers will win prizes. If you would like to register for the Run/Walk, contact Joel Silverman at the TCRCD 623-6004 or download and mail in the registration form. If you dress up as a salmon, you might even win a special prize for best salmon costume.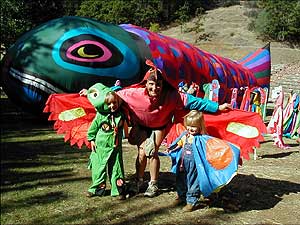 Salmon Tent and Costumes
The entire event goes until 5pm. If you would like more information about, or would like to volunteer for, the Salmon Festival, contact the TCRCD at 623-6004, or the Trinity County Arts Council at 623-2760.
See you there!
Noxious Weeds to Watch in Trinity County
Non-Native Annual Grasses
A complex of non-native, annual grasses has invaded grasslands in California, which may have been previously occupied by native, perennial and annual grasses, as well as forbs. Conversion to non-native annual vegetation was so fast, so extensive and so complete that the original extent and species composition of native grasslands is unknown. Some common annuals in Trinity County are cheatgrass (Bromus tectorum), ripgut brome (Bromus diandrus), hedgehog dogtail (Cynosurus echinatus) and medusa-head (Taeniatherum caput-medusae ). Annual grasses threaten areas with sparse native plant communities such as deserts and bare serpentine soils, as well as more complex communities degraded by overgrazing, fire, or cultivation.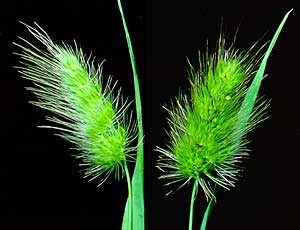 Hedgehog dogtail
© Barry Mayers Rice, The Nature Conservancy

Native bunchgrasses have large, well-developed root systems that effectively hold the soil in place. Non-native annuals do not need to establish extensive root systems, because they complete their life cycle in one year and produce seed. In fact, seedling emergence and growth of medusa-head is favored by soil movement, making the success of this species linked with erosion and disturbance.

Many of these non-native grasses also increase fire frequency, because of their fast production of plant material In some areas the interval between fires becomes so short that native perennial grasses and shrubs can not recover.

Minimizing disturbance to intact native grass stands is extremely important, as well as seeding disturbed areas with native grass seed in order to establish a healthy plant community beneficial to wildlife and, in grazed areas, forage for livestock. Healthy stands of native grasses and forbs also tend to resist invasion by non-native herbaceous plants, such as yellow star thistle and diffuse knapweed.

Ripgut brome
© Barry Mayers Rice, The Nature Conservancy