Weaverville Summer Daycamp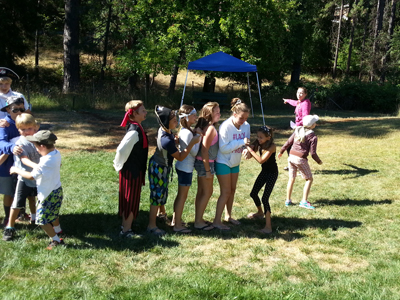 Campers learn cooperation with group lawn games.
2016 Weaverville Summer Day Camp
Children in Trinity County have the unique opportunity to spend three weeks each summer getting outside and learning about nature, food, farming, recycling and cultural history in and around Weaverville. They'll experience plenty of outdoor activity while learning about the environment, and creating and eating healthy snacks in a fun and engaging camp environment. Your child will make new friends and look forward to each carefully planned day.
The Weaverville Summer Day Camp is a fun and safe place where your campers can create, explore and learn without even knowing it! Held at the historic Young Family Ranch, our camp welcomes children aged 5 – 12 to attend. Children who are 5 must have passed Kindergarten and be advancing to first grade. Children who are 12 can be entering 7th grade – this is a change from previous years.
Campers are assigned to group programs by their age. Each age group will stay together during camp and participate in age-appropriate activities. The groups are:
Minnows: Ages 5 - 7 (limit 15/ weekly session) Focus on exploring nature at the Young Family Ranch.
Trout: Ages 8 - 9 (limit 15/weekly session) Focus on nature with some field trips.
King Salmon: Ages 10 - 12 (limit 10/weekly session) In-depth focus on nature with hands-on programs and multiple field trips.
Session 1, July 11 - July 15, 2016: Westward Ho!
Campers will experience fun adventures related to the Old West, including animal tracks, the power of plants, learning to read compasses and maps, songs, games and a taste of the wagon train with "cookie" and the wagon train master. We'll end the week with our own "hoe-down" created by and for the campers.
Session 2, July 18– July 22, 2016: Forest Explorer.
Campers explore our own Weaverville Community Forest with hikes, creek wading, crafts and bird watching. They'll even get a chance to build their own forest and see how it responds to natural disturbances. They'll learn about native and invasive plants and how they affect the health of the forest as well as how forests affect the health of the entire planet.
Session 3, July 25 – July 29, 2016: Wet n' Wacky!
The end of July is the best time of the year for water fun! Campers will get wet and wacky, quack like a duck and build like a beaver. Crafts, games, and the mysteries of water will be explored during this fun week. They may even learn a thing or two about the earth's oceans, lakes and rivers without ever setting foot in a classroom.
Sign Up Now! Registration Package Now Available.
Cost: $45/week /first two campers from each family. Additional campers from the same family, registered for the same week are $40/week. Scholarships available. Please call the TCRCD at 623-6004 for more information.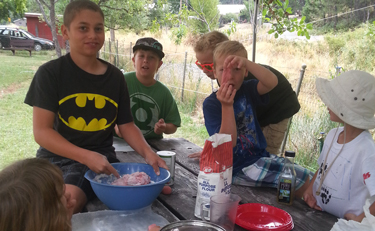 Having fun mixing up a batch of salt clay.
Campers can sign up for one, two, or all three weeks. Weekly sessions are held Monday – Friday from 9:00 am – 2:00 pm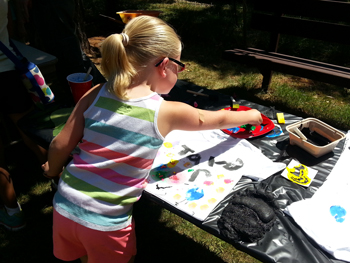 Every session includes crafts to spark each camper's creativity.
Campers aged 8 – 12 will benefit from field trips to see the wonders of Trinity County. Past field trips have included Hamilton Ponds, Lewiston Lake, Lewiston Fish Hatchery, Canyon Creek and several spots on the Trinity River.
In 2005 the Trinity County RCD began the popular Weaverville Summer Day Camp, which is held at the Young Family Ranch on Oregon St. Every year we hire local high school and Community College students as counselors, giving many the opportunity to work at a "real" job for the first time.
Application for 2017 Weaverville Summer Day Camp Counselors.